[lmt-post-modified-info]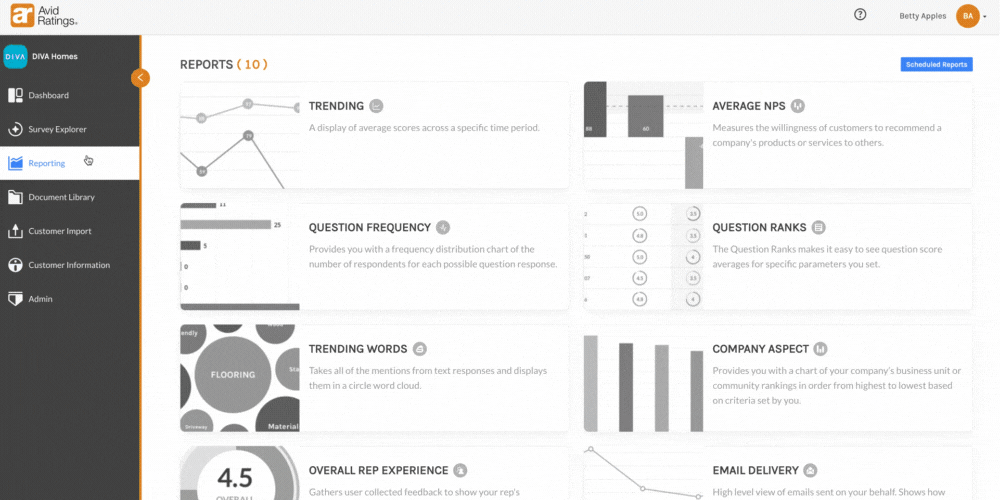 Analyzing large amounts of customer survey data can be overwhelming and time-consuming, particularly for housing professionals with multiple communities, projects, employees, or products to manage. Without a general overview of data trends over a period of time, it's difficult to understand exactly how your company is performing at each touchpoint of the buyer journey.
With our Trending Tooltip feature, AvidCX users can track changes in average survey scores each week, month, quarter, or year on an easy to read line graph. This tool also shows multiple surveys at once; for example, homebuilders can see their move-in, mid-year, and year-end survey averages compared to the industry average. Additionally, users can hover over each individual touchpoint and view the survey type, total number of responses, and response date.
This quick snapshot saves users time sifting through survey data, gives users a general benchmarking overview, and helps users evaluate their report data more effectively. If one month shows a much lower score than the rest but only 1 person's survey responses were counted, for example, that month may not be very reflective of the user's true scoring.
Take a look at this easy to navigate feature below.
---
Here's how to navigate inside the Trending Tooltip feature.
Step 1: Log in to AvidCX and on the right navigation menu click Reporting to view all available reports. Then, click the top left Trending report.

Step 2: Scroll down to view the line graph displaying the average scores of the survey touchpoints. Here users can change their preference to view reports by the week, month, quarter, or year, and change the rating scale to fit their personal preference.
Step 3: Now for the cool part. Users can hover over the each of the data points in their Trending reports and the chart "tooltip" will appear listing the specific survey type, total number of responses, and the response date.
If you are an AvidCX user and have any questions about this feature, please contact your Client Success Manager.